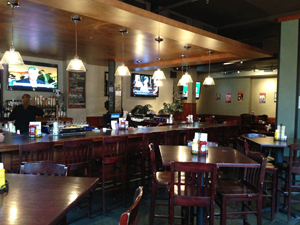 The Purple Pub

65 Spring Street
Williamstown, MA
(413) 458-0095

Cuisine: American
It was a sunny Saturday afternoon and we decided that a short drive north to revisit the The Purple Pub in Williamstown, MA was long overdue. One of the great extras at The Purple Pub is the fact that the front of this place opens up to the outdoors in the summer, giving you the feeling of being outside …even when you're not. Check it out!!!
Their "soup of the day" was Gazpacho, which is one of our favorites and always a good sign that summer is near. It was perfectly seasoned with a great balance of flavors, and a texture or dice on the vegetables that was not overly chunky.
After relaxing with one of their craft beers, we decided to order a serving of their "Signature" wings. We're not new to the wings at The Pub, but since it had been awhile since our last visit, we thought it would be great to retry one of our favorites from the past. Some things just never change …and in this case, I mean it in a positive way. They are as good now as they had been in the past.
The service was great and our waitress was on top of things. We're heading back for an evening soon and looking forward to trying the Lobster Alfredo and Baby Back Ribs. These are a couple of recommendations from friends that have tried both, on several occasions.
If you're heading to the Williamstown Theatre Festival this summer, you may want to hit The Pub before or after for a quick bite to eat and cocktail.
The Purple Pub

65 Spring Street - Williamstown, MA
(413) 458-0095

Cuisine: American